There are many things you could do with 20 minutes. You could listen to a Pink Floyd song. You could watch an episode of Brooklyn 9-9. You could put away half the basket of overflowing clothes in your laundry (because let's be honest, nobody's ever takes less than 40 minutes to fold!)
But we guarantee you, none of these things are going to make you anywhere near as productive as what you're going to learn in this cheat sheet.
In this post you're going to learn the strategies that top social media managers and influencers use to plan and schedule a week worth's of Instagram in just 20 minutes. By batching your content and making the most of Plann's features, it's totally doable. Not only will you save yourself SO much time each week on posting Instagram content, but you'll make the process so much more fun and less stressful.
There will be no more agonizing over what you're going to post on Instagram each day — you'll have the peace of mind of knowing your entire week is covered! That way, you can go back to doing other fun stuff like watching The Office, listening to music, and folding your laundry (not!)
Go in with a game plan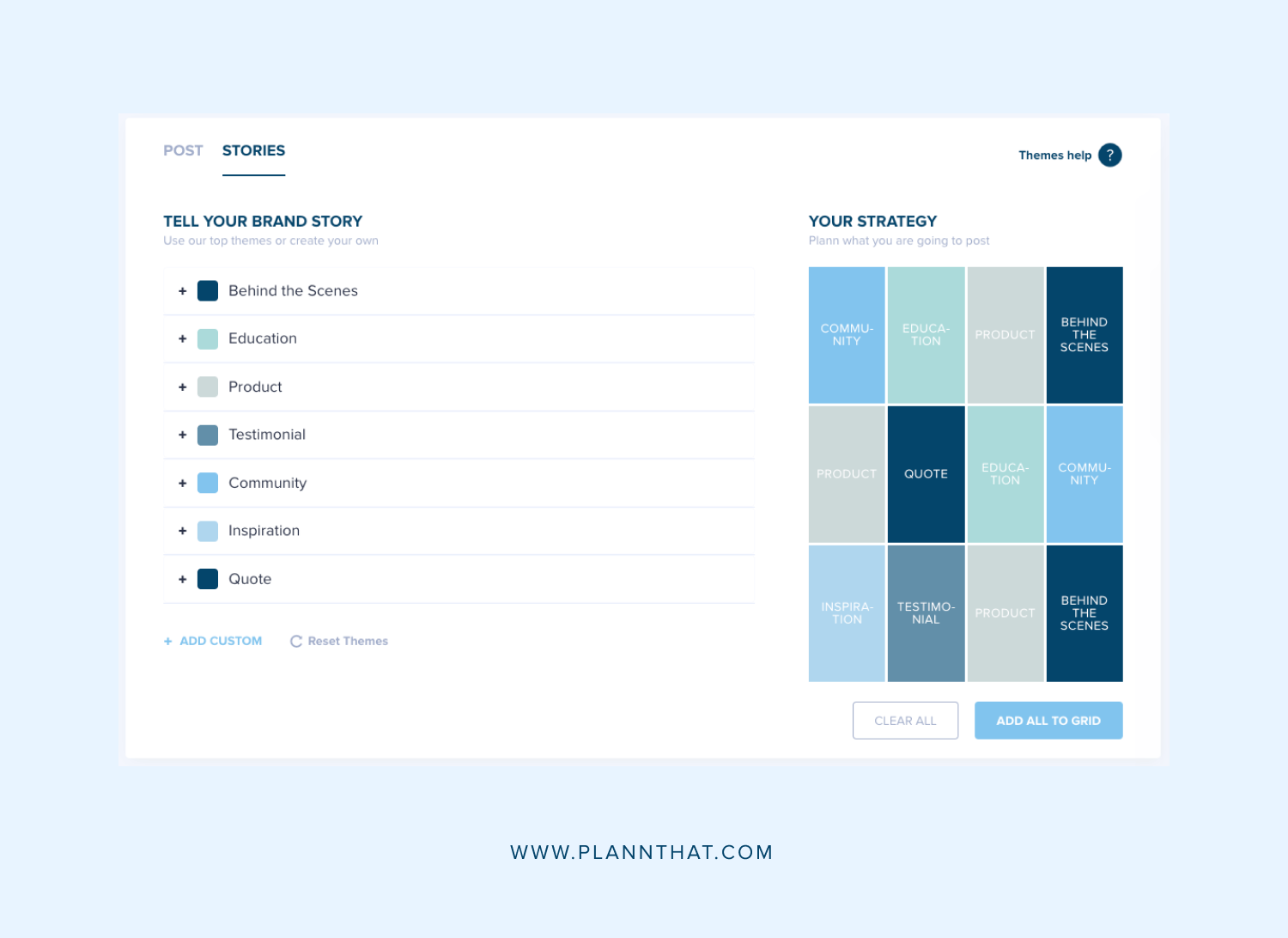 Planning your social media content requires a strategy in mind of what you're going to post through the week. A great way to do this is by having set 'themes' for your Instagram — meaning, a variety of different topics you post about. You can use Plann's strategy tool to pick from our suggested themes, or you can choose your own and add it as a custom strategy
For example, you might have 5 different content themes — inspiring quotes, educational posts, customer testimonials, product photos and behind-the-scenes snaps. You can drag these themes right onto your planning grid, so you know exactly what kind of post needs to go where. Not only will this ensure you have a great mix of content, but it will stop you from having to reinvent the wheel every time you post.
Pick your prompts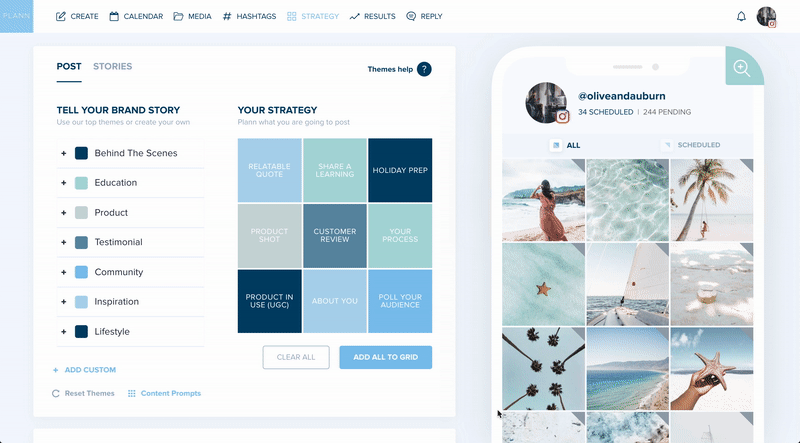 Always get stuck in the timesuck of figuring out what exactly to post on social media? Well, you can also take your strategy a step further, and use our amazing content prompts to spark your inspiration! Tailored to over 50 different industries and occasions (such as Easter or Christmas), these create a strategic brand story for social media.
So, say you're an artist who wants to get the word out about your work — the content prompts would suggest a variety of content themes, like showing off your workspace or sharing a work in progress. By dragging these onto your grid or stories, all you need to do is fill in the blanks with your own content.
Need more content inspo? Check out this free library of monthly content calendars to get that creativity flowing.
Upload Your Content From 'Collections'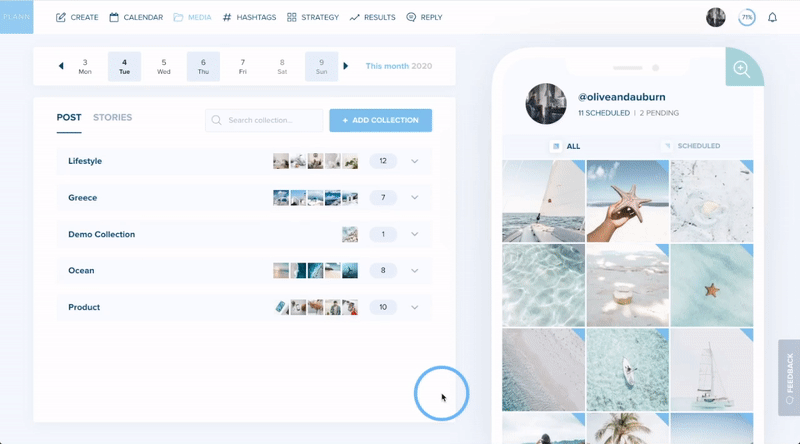 Okay, so the next question is — what exactly do you post in these slots? Well, we highly recommend creating 'collections' in Plann, where you store different sets of images.
So, if you have product photography, that could be one collection. Images of your team could be another, and so forth. If you already have these stored in Dropbox or Google Drive folders, you can also import these straight into Plann.
If you're looking to fill some images to fill the gaps, you can also use our extensive library of beautiful free stock imagery from Pexels, Unsplash and Pixabay.
Sure, it may take you an hour or so upfront to get all your images into collections, but once it's done once you'll be able to just pick and choose what you need for your social media channels!
Tip: Ain't nobody got time for individually uploading pics into your 'create' area. Batch upload them by clicking on all the pics you want from your collection at once
Batch Edit Your Photos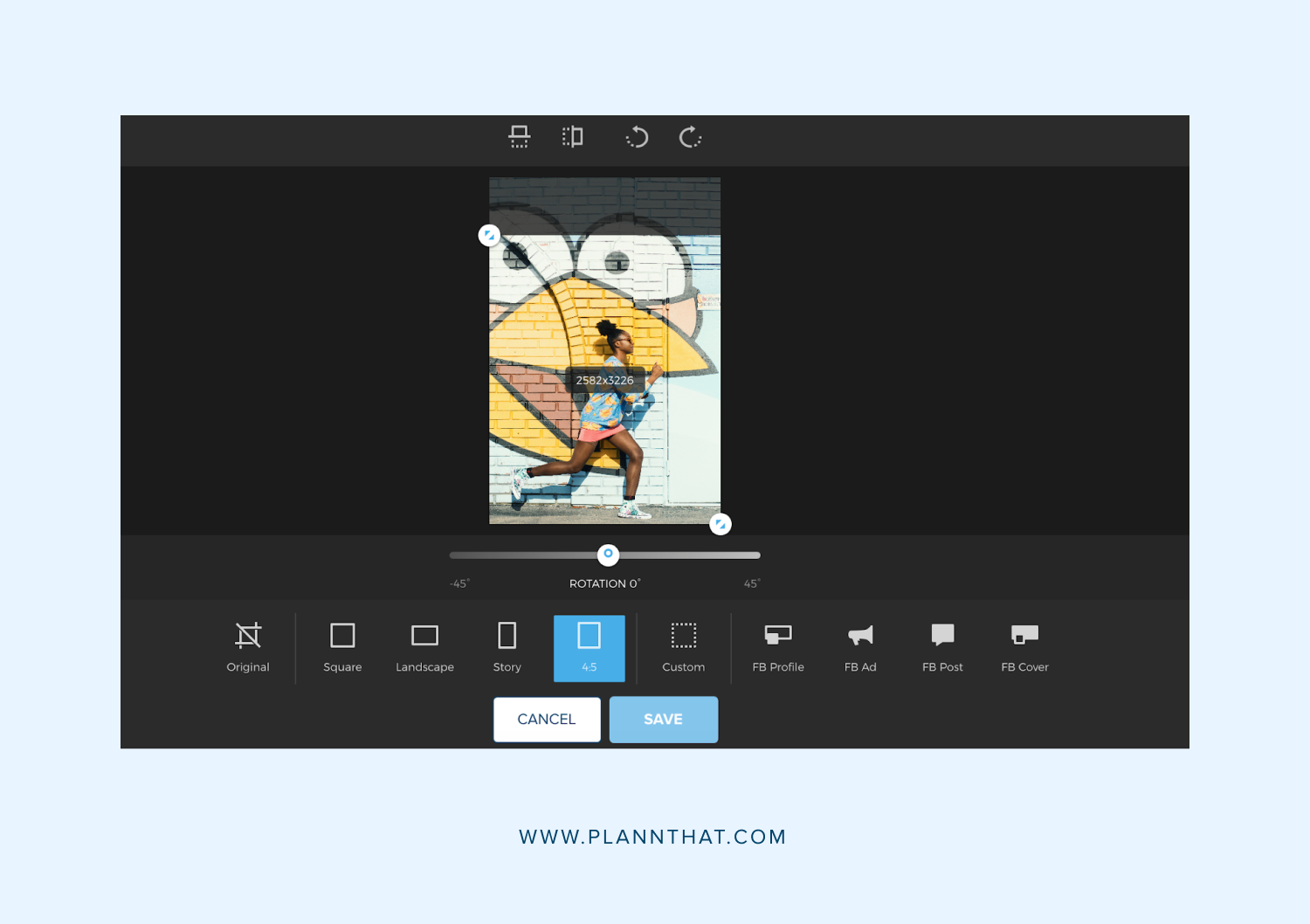 Playing around with pretty filters on your pics can be a fun distraction, but it's not the most efficient use of your time! By having one go-to preset or filter for your images, you can not only make your feed look way more consistent, but also save yourself loads of time.
While some people choose to use Adobe Lightroom presets for this, you can also do this from right within Plann by choosing from our gorgeous range of filters. Just click on the little paintbrush icon next to your photo to open up the editing menu, then click filter!
The same goes for your Instagram graphics — it's way too time-consuming you create these from scratch every time. Use Canva to pre-create templates that you can easily customise with your text and image each time. As your Canva account is integrated inside Plann, you won't even need to leave the app each time to access your graphics. You can also use Plann's text editor feature to quick;;ycreate beautiful text overlays on your photos.
Create Social Media Graphics In Bulk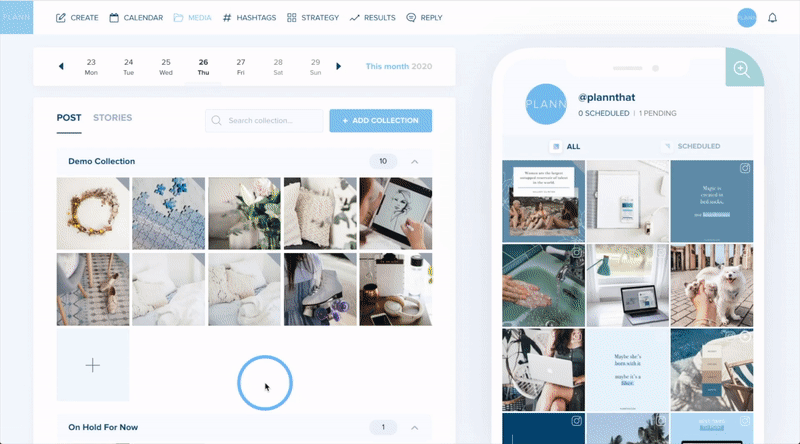 The same goes for your Instagram graphics — it's way too time-consuming you create these from scratch every time.
Previously, they could add stacks of time onto your content creation process, as you had to create posts in an external tool, then upload them, then schedule them — and god help you if you realized you'd make a mistake and had to start all over again. But, not anymore! Now, thanks to Plann's free Canva integration, you can quickly create graphics and batch from right within the Plann app. Talk about a game changer!
We recommend first setting up a couple of branded templates within Canva with your brand colors and fonts, in both the dimension sizes for Instagram, Facebook and LinkedIn posts. Having these templates already set up from the get-go will save you SO much time with your content creation. Then, these will be pulled into your Plann account for you to customize. Just go to the 'create' tool, select Canva and find your template. Then, add your own text, hit publish and voila, it's ready to add to your grid or feed.
Write Quicker Captions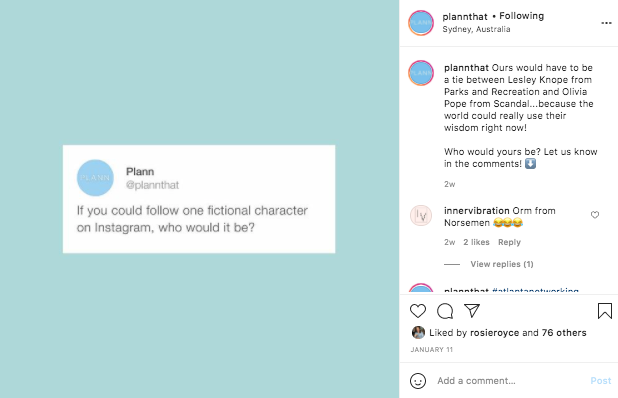 We know that coming up with the perfect caption can be one of the most time-consuming parts of planning your socials. After all, you want to be witty, yet casual! Professional, yet approachable! Smart, yet sassy! Need we go on? But here's the good news — you don't need to overthink your captions.
As the entrepreneur, Marie Foreo says — just write like you talk! We're willing to bet you can talk about your awesome business or brand until you're blue in the face. So, do it! When an idea for a post or caption pops into your head, open up a voice note on your phone and just talk about it! You can do it when you're making your breakfast, getting ready for your day, driving etc (only if you can safely do it handsfree, of course!)
Or, if you're more of a written notes person, open up a Google Doc or notes and just braindump any idea as it comes up. If you've recorded audio files, you can use an app like Otter.Ai or Rev (their automated version only costs a few cents per second) to get them transcribed. Then, with an app like Grammarly installed, you can give your captions a quick tidy up for grammar and punctuation.
Once you've got some rough captions, go through and make sure they have these two things: a strong hook (an opening line that's going to make people want to keep reading) and a killer CTA (a call-to-action or next step, whether it's tagging a friend who needs to read it, answering a question or checking out the link in bio) Whether your caption is long or short, funny or personal, you won't be able to go wrong if you have these two things.
Have Your Hashtags Ready
If you're coming up with fresh hashtags every time you post, you're likely creating a lot of extra work for yourself! A super handy shortcut is to have sets of them pre-saved in Plann. For example, if you're a sustainable fashion blogger, you might have one hashtag set about style, another about sustainability, another about vegan living etc.
The Instagram algorithm doesn't like it when you reuse the same hashtags over and over again. So, try creating sets of around 10 hashtags, so you can easily mix and match for them.
Need help figuring out what hashtags to use on Instagram? Check out our ultimate hashtags cheat sheet, where we've hashed out everything from where to find new ones, to the best ones to use.
Schedule Ahead
Once you've got all your images, captions, and hashtags sorted, it's time to schedule your posts! To save yourself the guesswork of trying to figure out the best times to post, you can use Plann's handy AI-powered features to determine your optimal times. You can choose from either the 'your best times to post' (the timeslots where your posts have performed best in the past) or 'when your audience is most online'. Click on either of those, hit schedule on your posts and voila, you'll have a week of content ready to go!